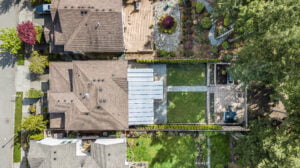 There was once a real estate agent named John. He had been in the business for many years, but had never quite found the secret to success when it came to selling his properties. He had tried everything – from traditional photography to virtual tours – but nothing seemed to be working.
One day, John was at a real estate conference and he heard a presentation about the benefits of real estate aerial photography. The speaker showed some stunning aerial photos of properties and John was immediately intrigued. He knew that he had to give it a try.
John contacted a professional real estate aerial photographer, and they scheduled a shoot for his next listing, a luxury waterfront property. The photographer used a drone to capture breathtaking aerial views of the property, including the private dock and boat slip. The images were absolutely stunning and John knew that they would make a big impact on potential buyers.
He used the aerial photos as the centerpiece of his marketing campaign for the property, and it wasn't long before he received an offer. To his surprise, the offer was well above the asking price. John couldn't believe it – he had finally found the secret to selling his properties. He had been able to showcase the property in a way that truly highlighted its best features and made it more appealing to potential buyers.
From that day on, John made sure to include aerial photography in his marketing strategy for all of his listings. He soon became one of the most successful agents in the area and was known for his ability to sell properties quickly and at top dollar.
The moral of the story is that sometimes, all it takes is a new perspective to make a big impact. By embracing new technology, John was able to showcase his properties in a unique and compelling way that helped to increase the chances of a successful sale. So, if you're looking to sell a property, don't be afraid to try something new – it just might be the edge you need to stand out from the crowd.